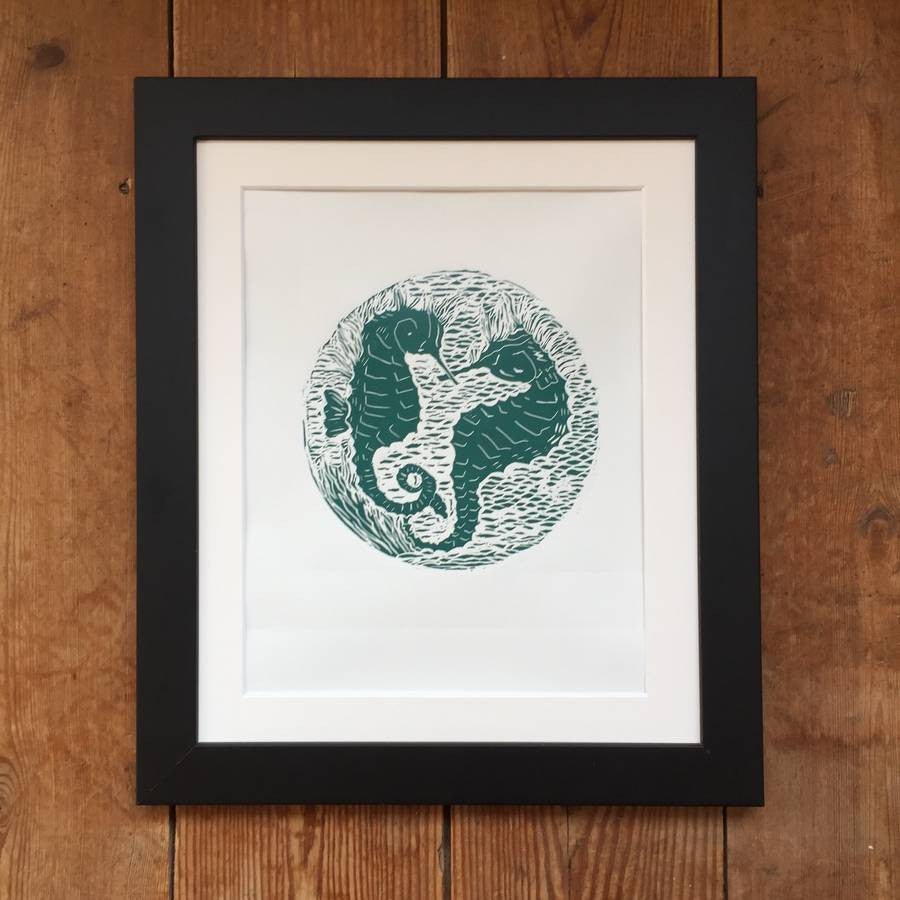 Pragya Agarwal Printmaker
Horse Play: 'Sea Horses' Linocut Print
A limited-edition signed linocut print in lovely jade colour, based on an original design, beautifully portraying love and togetherness, perfect for the special couple.
Sea horses are perfect, and suitably quirky, to reflect the strength of a relationship, as, do you know that sea horses are one of very few of the creatures in the wild that mate for life? Truly representing 'Together, forever' or the promise and the aspiration of it!
This linocut design with two intertwined sea horses is based on an artwork made for a wedding invite commission.
I wanted to create something fun to reflect the personalities and the dynamics of their relationship as well as their love of sea, marine life and animals.
It will beautifully complement the current Scandinavian interior decor trend, as well as a perfect gift for the celebration of love, togetherness and hygge!
The print can be gift wrapped for free in beautiful acid free tissue paper, or, can be framed, ready to be given as a gift, in a flat wooden frame that enhances the nautical look of the design.
If ordered unframed, the print will be sent flat-packed with a sturdy backing, and if framed it will be posted in a secure box so that it arrives in perfect condition.
All my handmade prints are limited edition and each print is inked and printed individually, hence making it completely unique. The colour palette is chosen carefully to complement the design. Due to the handcarved nature, there can be very fine textural marks around the main image too, which should be taken to highlight the handmade nature of our Linoprints and the unique nature of each print. 
Each print is signed, numbered and titled by the artist. This is a limited edition run of 50 printed with environmentally friendly, oil-based inks on acid-free smooth 145 gsm Zerkall printing paper.
dimensions:
The main image size is appx 19 cm X 19 cm, and is printed on a 25 cm X 30 cm paper with an adequate margin for framing. The frames are appx 25 X 30 cm in size.
All products copyright Pragya Agarwal, Hedge and Hog Prints
---
Share this Product
---
More from this collection